Backpacks and purses can be so boring. Transport your books in style with one of these adorable, literary tote bags!
---
Make Love, Not Horcruxes Tote via Etsy: $20.30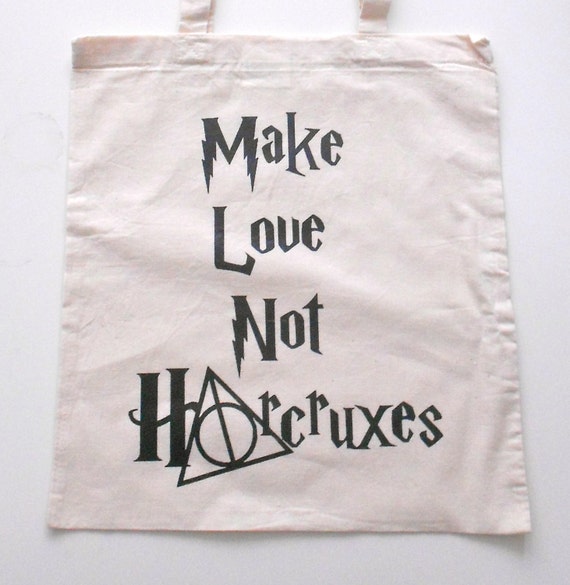 Perfect for any Potter-lover.
---
Bookshelf Bandit Tote in Jane via Modcloth: $19.99
Jane Eyre is one of my favorite books of all time, so if anyone were to ever, ya know, surprise me with this, I wouldn't hate it. Look under "Other Haute Hues" for totes inspired by A Clockwork Orange, The Very Hungry Caterpillar, and more!
---
I Bloody Love Books Tote via Not On The High Street: $23.02
Can't go wrong with a 100% factual statement.
---
Baby Got Book Tote via Modcloth: $19.99
Again…you just can't go wrong with stating the truth.
---
How do you carry your books? I actually have a tote with "I like big books and I cannot lie" on it that Andrew got me for Christmas a few years ago. The last time I went to the Strand in New York City, I filled it almost to bursting with all the books I bought! Next time I go to the Strand, I'm gonna try to fill this Boston Public Library Delivery Tote Bag, which Andrew got me for Christmas this year. It holds something like 27 pounds of books (!!) but I think I'm up to the challenge. (My non-existent upper body strength isn't so sure.)
by