I've posted a lot of décor appropriate for bedrooms, offices, and living rooms, but not much for kitchens. So today, I've decided to remedy that!
---
Book-Shaped Plates via Webstaurant Store: $86.99 for a set of 12
I need these plates, stat. I don't usually like square plates (they just seem wrong…plates should be round), but if they're shaped like books…sign me up!
---
Tea & Books Tea Towels (set of 2) via Bas Bleu: $19.95
I don't actually drink tea—I know, I'm the worst snobby reader ever—but I wish I did. Mostly so I could have these towels and have both parts of the statement make sense.
---
White Ceramic Book Salt and Pepper Shakers via Ebay: $5.99
These are just adorable! And they're vintage (or at least, they look like they are), for those of you who are into that. So cute!
---
Jane Austen Literary Quote Coasters via Etsy: $25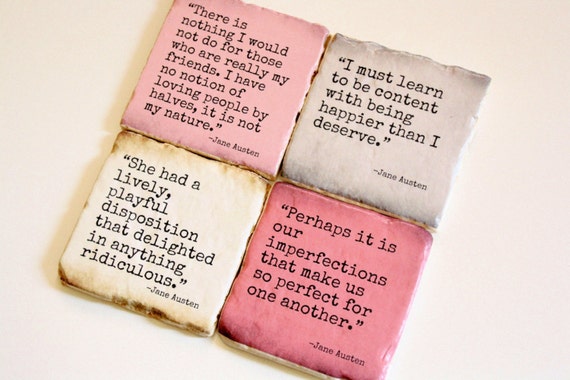 Look how gorgeous these stone coasters are!! You can also get Harry Potter, Edgar Allen Poe, or assorted! I love bookish coasters, even though I don't actually ever use coasters…
Which of these do you want in your kitchen?
by